Light Trail
Sat 31st Oct, 5-8pm. Follow a route around Water Orton discovering10 different 'Light Stops' along the way!
Please register to take part: Email Gary at waterortoncfm@gmail.com for a pack or register & pick up at a pack from St Peter & St Paul's Parish church on the night.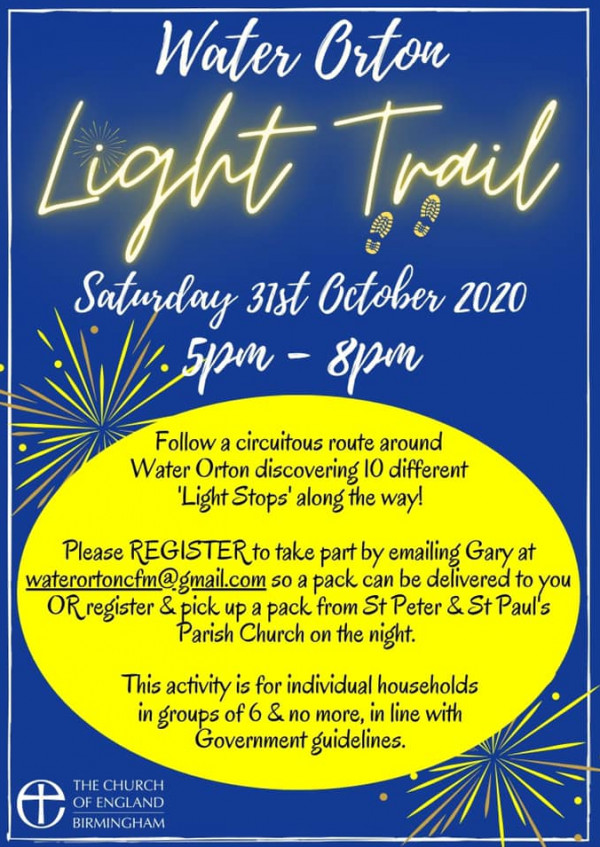 Kingfisher foodbank donations
The church is open 10-11am on Tuesdays, Thursdays and Saturdays to receive food donations for the Kingfisher Foodbank, Smiths Wood.

Top six shortages:-

Nappies Size 5
Tinned Rice Pudding
​Tinned Meat/Fish
Tinned Fruit
Tinned Tomatoes
Long Life Milk
Also
Vegetarian Fray Bentos Pies 
Toiletries like soap, shower gels, shampoo, toilet rolls, deodorant, toothpaste, washing powder, sanitary towels etc and nappies size 5 or 6. Also large boxes of soap powder that we can split into smaller portions.
Remembrance Day Service (at Memorial)
Sunday 8th Nov - at approx 10.55am it is hoped that a Service of Remembrance will take place at the memorial (junction of Coleshill Rd and Watton Lane). Part of Coleshill Rd is planned to be blocked off for the gathering. Please keep to social distancing.

There will be no procession this year.


Toy Services
Sun 22nd Nov. Toy Services at 9am & 11am. Please donate new toys unwrapped. Toys can also be delivered to church during the preceding week on Tuesday, Thursday and Saturday from 10-11am. These are to go to Birmingham City Mission to be distributed. Wanted are toys, books and games(complete and unmarked). Full list here